Tally.ERP 9 Release 6.3
The latest version under Tally.ERP 9 Release 6 series is Release 6.3.
The due date for filing GSTR-3B for every month is on the 20 th of the subsequent month. For November 2017, the due date is 20 th December 2017.
Enhancements:

Export GSTR-3B in JSON format

You can now directly export GSTR-3B form in JSON format from Release 6.3 and upload it to the GST portal.

If you prefer to view the GSTR-3B in MS Excel before uploading, you can do so as well. Download the GSTR-3B Offline Utility from the GST portal. Tally.ERP 9 exports details of the transactions into the GSTR-3B MS Excel form. Click on Validate button in the form. Upon successful validation, you can generate the form in JSON and upload it to the portal.
Inclusion of Interest and Late Fees payable
Generate quarterly GSTR-1 returns
As per the announcements made in the 23rd GST Council Meeting, regular dealers with turnover less than 1.5 Cr have to file GSTR-1 on a quarterly basis. As soon as this feature is enabled in the GST portal, you can generate your quarterly GSTR-1 return from Tally.ERP 9 Release 6.3 as well.

In Gateway of Tally , click F11 > F3 > Statutory details . Choose: Set/Alter GST details . A new option, Periodicity of GSTR-1 is available. Select Quarterly here.
Print invoices with item-wise and rate-wise breakups
Make your customers happier by printing invoices with complete item-wise and rate-wise tax breakup details. You can see tax details (CGST, IGST, SGST, Cess) individually for each line item. Press F12 > Enable Print Item-wise GST details . Tally.ERP 9 automatically changes the print setting to Landscape.
GST is India's single largest tax reform since independence. GST aims to help replace the federal tax structure with a more unified one to help reduce the cascading tax on tax impact, and remove the barriers to trade across state boundaries.
Highlights
You can quickly get started with GST in a few easy steps
Start Using Tally.ERP 9 for GST Compliance
To record a GST transaction, you have to activate GST and also update or create the required ledgers.
To use Tally.ERP 9 for GST compliance,
1.    Activate GST
Note: You can find the list of HSN codes/SAC on the website of the department of revenue.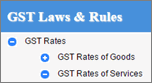 3.    Update or create ledgers as required.
Depending on the business requirements you will need to update the following ledgers, either immediately or later.
●     Update stock items, and stock groups to include GST details.
●     Update sales and purchase ledgers to use in GST transactions.
●     It is recommended that you restart voucher numbering for GST transactions to ensure that unique voucher numbers are used for all your vouchers. If Automatic (Manual Override) is set as the method of voucher numbering, it ensures that unique voucher numbers are set for your vouchers.
●     Update party GSTIN/UIN for parties buying from you or selling items to you.
●     Create GST tax ledgers to calculate taxes in transactions.
●     Create income and expense ledgers to distribute the expenses and incomes against items appropriately.
Your company is ready with all the masters. You can use TE9 for transactions.
Better GST billing experience

You can specify the discount value for each item in the invoice, and the discount value gets considered as part of the assessable value of an item.

Since cash sales are considered as local sales by default in Tally.ERP 9, cash transactions will become much faster and error free.
GSTIN validation

Deeper GST insights for outward supplies

The Return Format view gives you the list of tables in the GSTR-1 return which is similar to the view in the offline tool. Drill down from each line to view a replica of what will appear in the GSTN portal.

The Summary View gives you a nature of transaction-wise view, with an option to detail it out rate-wise for further analysis.
Better control of round-off mismatches to save time and effort

Enhanced GSTR-1 export capabilities

You can now map UQC to either unit of measurement, which results in a more accurate HSN summary in your GSTR-1 return.

Enable or disable HSN Summary based on your choice.

View the HSN Summary by HSN, or description, or both as per business needs.

The docs sheet is also filled in the exported MS Excel to give you a complete GSTR-1 e-filing experience.
Click here for release notes
Click here for download